More results

Algorithm overview: the first step initializes a BOP E-graph (Section 4.3.2, Section 4.3.3) with several design variants and a small number of fabrication arrangements (a). U and A represent union and atomic e-nodes respectively. As part of the ICEE loop, the algorithm extracts a Pareto Front (Section 4.3.4) which is used to score the e-classes in the BOP E-graph (b). For example, the gray e-class containing a "U" and an "A" e-node indicates a low score, i.e., the e-class did not contribute to Pareto-optimal solutions. The BOP E-graph is then contracted (Section 4.3.5) by removing the low-scored e-classes (and their parent e-nodes) to get a compressed BOP E-graph (c). As described in Section 4.3.6, this contracted BOP E-graph is then further expanded (d) by exploring more design variants and fabrication arrangements. The algorithm exits the loop when the termination conditions are reached, returning the final Pareto Front (e).
Pareto fronts computed from our pipeline with design optimization as colored dots. Each color corresponds to a different design. The gray dots indicate the Pareto fronts of all explored design variations. These are compared against Pareto fronts computed without design optimization (fabrication optimization only, using the original model as the input design) as squares, and expert fabrication plans as diamonds. Often, fabrication plans from a design variant are more optimal than those generated from an input design. For the unit of objective metrics, material usage (
,) is in dollars, cutting precision (𝑓𝑝 ) is in inches, fabrication time (
,) is in minutes.
Two examples where searching the design space revealed fabrication plans that completely dominated the fabrication plans generated for the input design.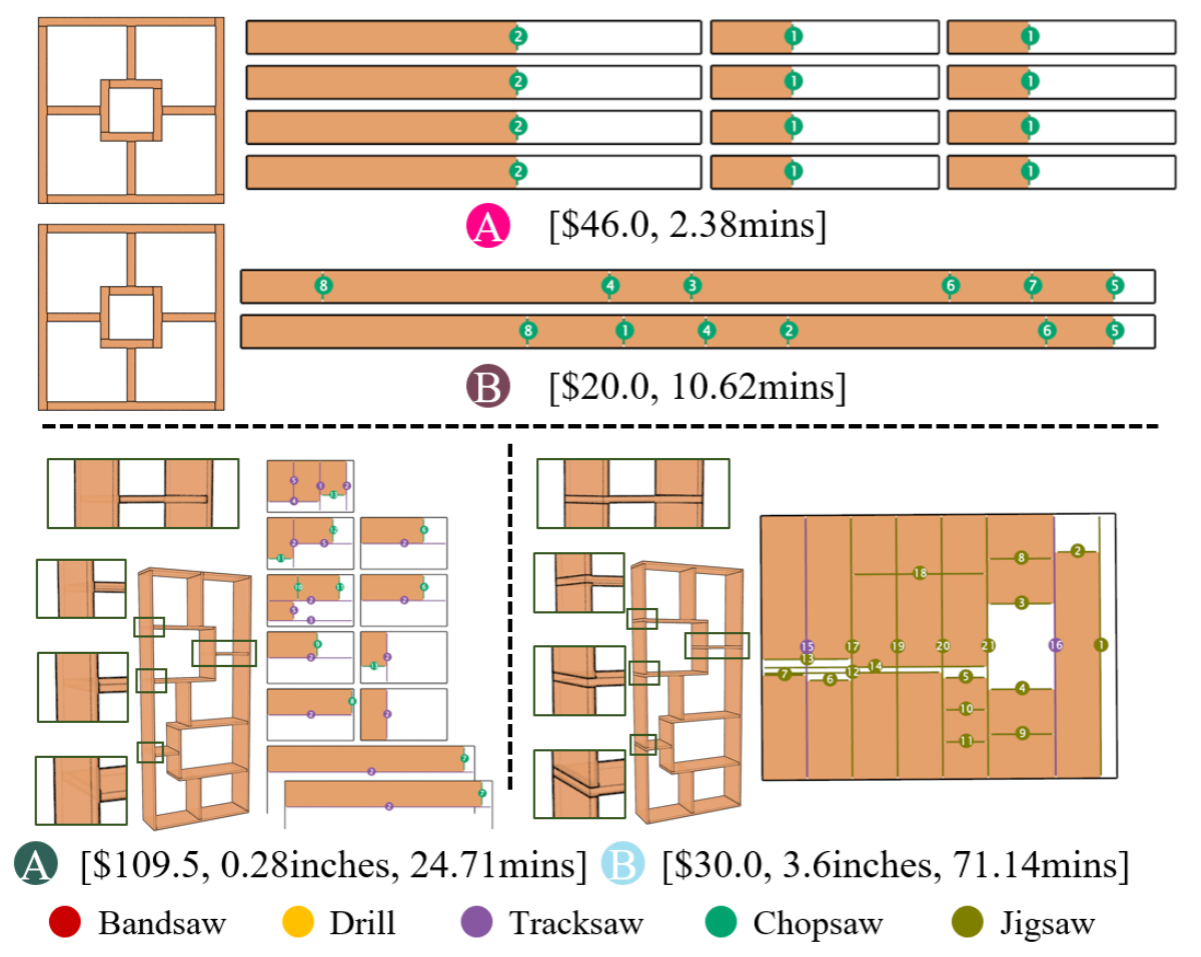 Two examples where exploring different designs lead to a wider diversity of plans, where each tradeoff on the Pareto front is only possible because of the underlying design.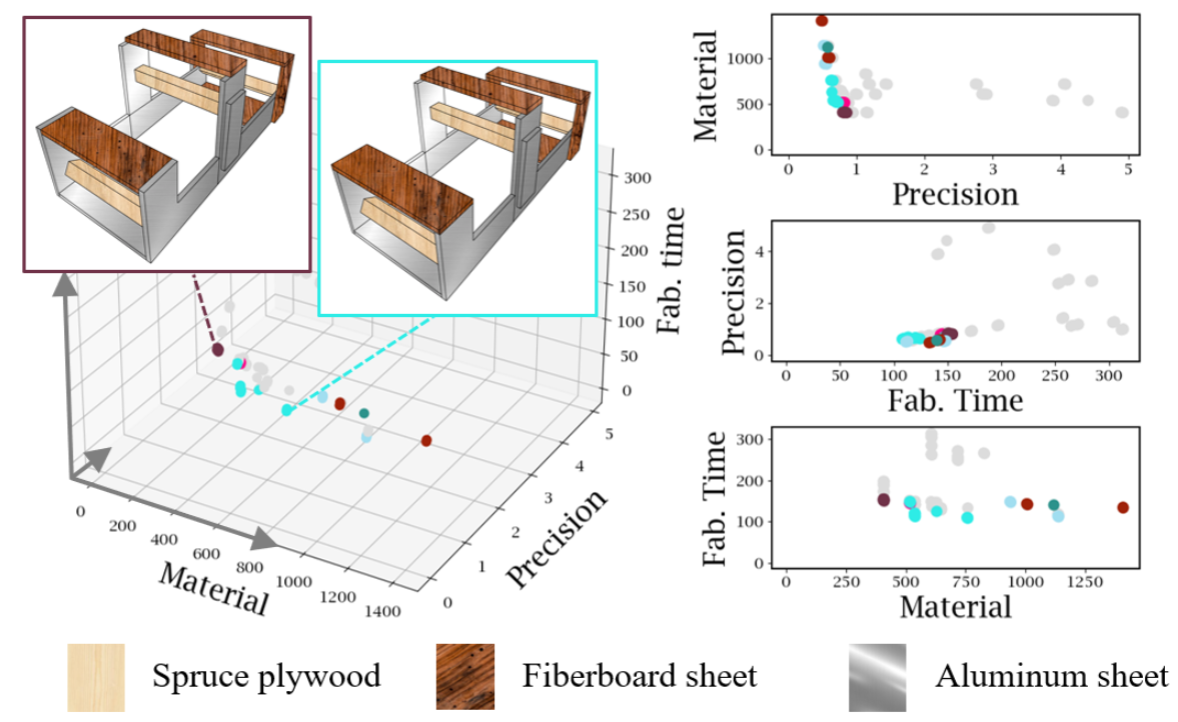 A loom model with mixed material where two kinds of wood (spruce plywood and medium density fiberboard sheet) and one kind of metal (aluminum sheet) are assigned to each part.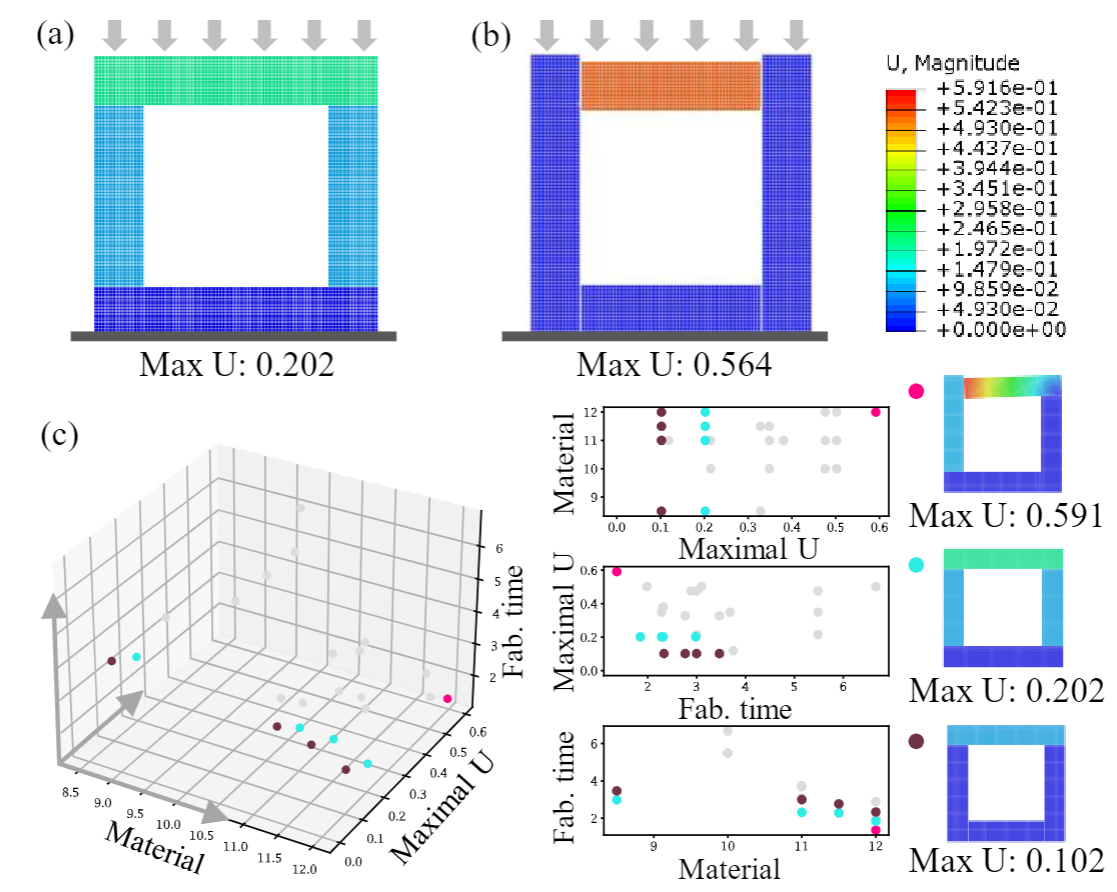 Pareto fronts computed from by our pipeline for the Frame model with three objective functions, material usage
, fabrication time
, and stability performance. The physical stability of each design variation is simulated with Abaqus/CAE 2021, measured with the maximal displacement (Max U). All displacements are in inches. In this figure, (a) is the displacement visualization in a direction, (b) is the displacement visualization of the same design but with a different direction, (c) plots the Pareto fronts computed from our pipeline where three design variations are selected.